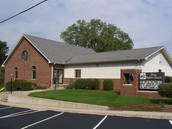 Welcome to the First Baptist Church of Pierceton web site. We are an independent Baptist church with a vision to reach our community with the gospel of Christ.
Our purpose is to lift high the name of Christ and to proclaim the good news of salvation through Jesus Christ. We preach the Bible's message of salvation (Click here).
We preach the truth of God's Word without reservation or apology.
We would be honored to have you worship with us. We are confident that you will find our church to be a place of encouragement and warm fellowship. Come and be blessed by God as we worship Him through God-honoring music and the preaching of God's Word.
Get the latest news and events:  Follow us on Facebook
Watch our Morning Worship Service LIVE (or later on demand) on

YouTube